Installing SQL Spreads

After downloading the installation file, run the SQLSpreadsSetup.exe file:

In Chrome, click the installation file in the bottom left corner:

In Internet Explorer, click the Run button:


SQL Spreads will start checking that the required prerequisites are installed. 

When the Welcome screen is shown, click Next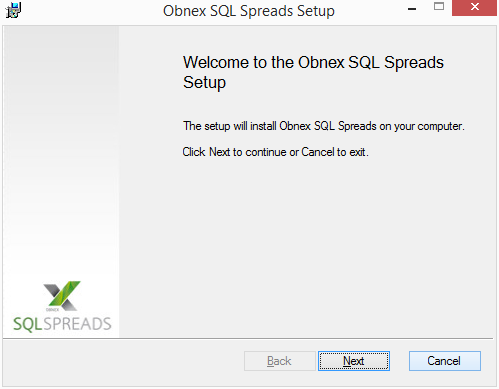 Read the license agreement and enable the checkbox to accept the terms of the agreement. Then click the Next button.
Installation is ready to begin, click the
Install
button.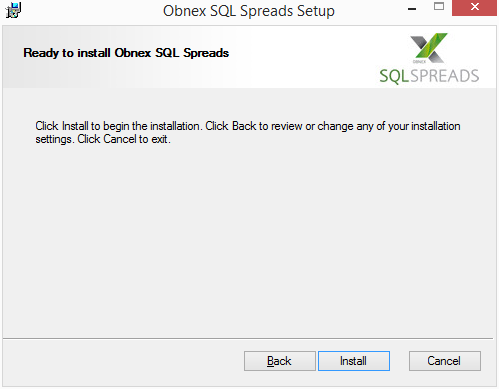 SQL Spreads starts installing. Once the installation is complete, click the Finish button to close the SQL Spreads Setup dialog.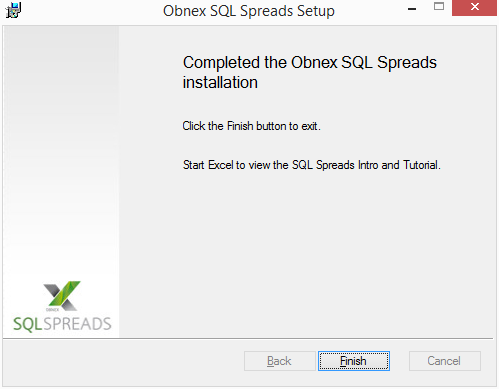 When the installation is finished, re
start Microsoft Excel
. 
When Excel is started you will be guided through a short introduction that will help you to create your first SQL Spreads document. 


NOTE: If you are using Excel 2013, create a blank workbook to start the introduction. 

To install SQL Spreads, you will need the following:

A PC with Windows 7, Windows 8 or Windows 10

, 32- or 64-bit.

Microsoft Excel 2007, 2010, 2013 or 2016 

in 32- or 64-bit edition. 

Requires the Excel desktop application, either the traditional or Office 365.   


Access to a Microsoft SQL Server, version 2005 or later and Express Edition or higher. The database server can be installed locally on your computer or on your corporate network.
When installing SQL Spreads, a check will be made that the following prerequisites are installed:
Microsoft .NET Framework 4.0 Client Profile

Visual Studio 2010 Tools from Office Runtime
If 
the prerequisites 
are not installed, the installer will download and install them.